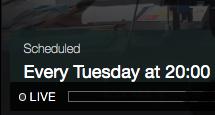 For an up-to-date map of all our shows, go to: http://bit.ly/Rapalje2023Maps

Rapalje – D Hameln 2024, Celtic Folk Night, Fri 12 January '24
Fri 12 Jan 24 20:00

-

22:00
2000 years ago the Celts were expelled from mainland Europe. All Celts? No! A band bravely resisted the influences of modern pop and rock music and eventually found their place in the modern music world.
Armed with nothing more than their instruments and their voices, the band Rapalje now roams clubs and halls as far as the eye can see in search of "victims" to embark on a musical journey through Scottish highlands, Irish plains, taverns and hostels.
Exciting jigs and reels, soulful ballads and a touch of heavy metal give you the perfect opportunity to escape from everyday life for an evening.