De Stad Amsterdam – Christmas Stream Live
De stad Amsterdam, this is the absolute number 1 of Dieb, his favorite song. In our version it starts slowly and goes faster and faster. The song is about sailors, but it could be musicians…
Anecdote: We have played it once or twice "only live" as de Stad Rotterdam, for fans from Rotterdam. And of course in the north of the Netherlands we spoke about Stad Appingedam in our own "Gronings" "de stad Ap'ge' Dam "and we are not talking about onions but" Siepels "and hanging kitchens, but normally we play the original version of De Stad Amsterdam.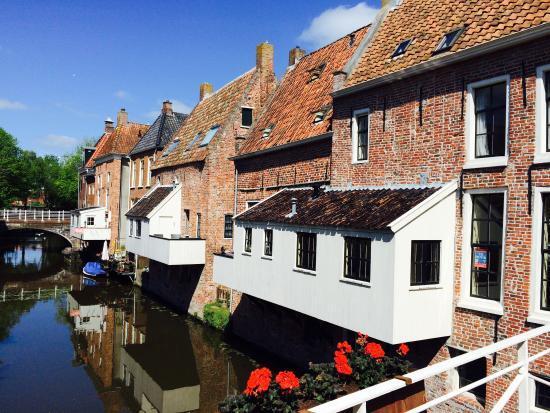 Background info
Amsterdam, also known as Dans le port d'Amsterdam is a song by the Belgian singer Jacques Brel, the song takes the form of a crescendo and describes the experiences of sailors during their leave in the red light district in Amsterdam. The melody is taken from the English anthem Greensleeves. Brel never released this song on a studio record. Despite this, Amsterdam became one of Brel's most popular songs.
De Stad Amsterdam Lyrics
1.
In de stad Amsterdam, waar de zeelieden lallen
Tot hun nachtmerries schallen over oud Amsterdam
In de stad Amsterdam, waar de zeelieden, dronken
Als een wimpel zo lam, in de dokken gaan ronken
In de stad Amsterdam, waar de zeeman verzuipt
Vol van bier en van gram, als de morgen ontluikt
In de stad Amsterdam, waar de zeeman ontwaakt
Als de warmte weer blaakt over Damrak en Dam
2.
In de stad Amsterdam, waar de zeelieden bikken
Zilv'ren haringen slikken, bij de staart uit de hand
Van de hand in de tand, smijten zij met hun knaken
En ze zullen hem raken als een kat in het want
En ze stinken naar aal, in hun grof blauwe truien
En ze stinken naar uien, daarmee doen zij hun maal
Na hun maal staan zij op om hun broek dicht te knopen
En dan gaan ze weer lopen en het boert in hun krop
3.
In de stad Amsterdam, waar de zeelieden zwieren
En de meiden versieren, buik aan buik, lekker klam
En ze draaien hun wals als een wentelende zon
Op de klank, dun en vals, van een accordeon
En zo rood als een kreeft happen zij naar wat lucht
Tot opeens met een zucht de muziek het begeeft
Met een air van gewicht voeren zij met wat spijt
Dan hun Mokumse meid weer terug in het licht
4.
In de stad Amsterdam waar de zeelieden zuipen
En maar zuipen en maar zuipen en daarop nog eens zuipen
Zuipen op het geluk van een hoer van de Wallen
Op een Hamburgse hoer, nou ja, van een goed stuk
Van een slet die zichzelf in haar deugd heeft geschonken
Voor een gulden of elf en dan zijn ze goed dronken
Met hun wankelende lijven lozen zij dan hun drank
En ze pissen zoals ik jank om de ontrouw der wijven
In de stad Amsterdam
In de stad Amsterdam
In de stad Amsterdam
In de stad Amsterdam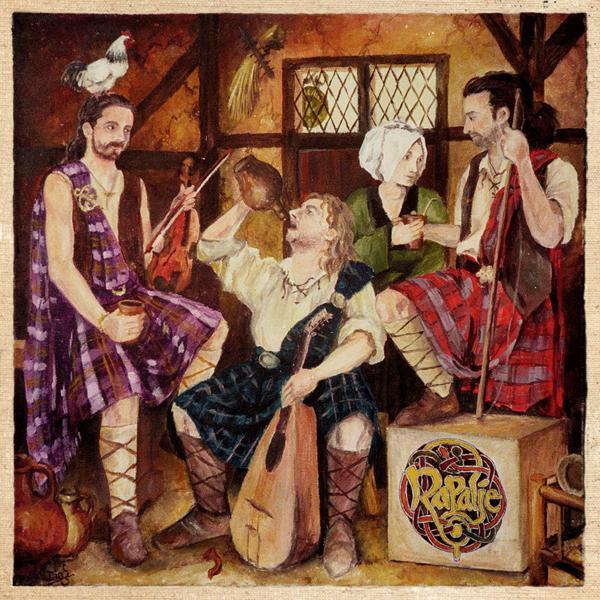 Rakkish Paddies  is available on CD
Support us at https://rapalje.com/stream 
Join us on Patreon https://www.patreon.com/rapalje_celtic_folk_music
Help David support the cultural sector: https://rapalje.com/donation
Shop for beautiful Rapalje products: https://rapalje.com/shop/
Come and see us in person: https://rapalje.com/agenda/
See the streams at https://www.facebook.com/rapalje
We livestream every tuesday at 20:00 CET, check our agenda for other shows and streams